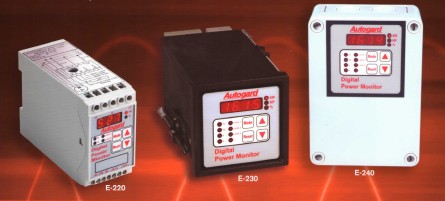 A range of Digital Power Monitors with programmable trips for monitoring, control and protection in 3-phase electric circuits. By measuring true power, more accurate and sensitive load monitoring is achieved than with current measurement devices. The E-220 is for DIN rail mounting. The E-230 version is for panel mounting whilst the E-240 is for face mounting. Options are available with analogue and digital outputs for interfacing with user control systems.
Key Features
- Fully digital design, easy to program via interactive front panel.
- High frequency sampling for accurate real time power measurement.
- Self powered - no separate power supply required.
- Internal current transformer with single wire feed - no coils to wind or count.
- Monitors all sizes of motor (external current transformer for currents > 25 amps)
- Can be used with variable spped drives.
- Measures and displays Power (kW), Power (%), RMS voltage, RMS current and Power Factor.
- Overload and underload trips with built-in relays.
- Programmable limits have delay timers to avoid nuisance trips.
- Can be reset remotely.